Paint Your Wagon 1969 Clint Eastwood Lee Marvin Original Belgium film poster
Paint Your Wagon 1969 Clint Eastwood Lee Marvin Original Yugoslavian film poster
Paint Your Wagon 1969 Original Colour mounted Slides x 13 (Ultra rare Eastwood costume test shots)
Paint Your Wagon 1969 DVD Widescreen Clint Eastwood Lee Marvin
Paint Your Wagon 1969 Original colour FOH set x 8 UK
Paint Your Wagon 1969 Original colour German Lobby set x 18
Paint Your Wagon 1969 Original Cast LP with Gatefold artwork Sleeve
Click below to hear Lee Marvin sings the haunting Wanderin' Star from Paint Your Wagon
Paint Your Wagon 1969 Original German press sheets
Paint Your Wagon 1969 Original German film Program
Paint Your Wagon 1969 Original Swedish film program
Paint Your Wagon 1969 Original UK program
Paint Your Wagon 1969 Original UK songbook
Paint Your Wagon 1969 Original (Scope) Trailer 8mm format
Paint Your Wagon 1969 Original Cast soundtrack CD
Paint Your Wagon 1969 Original French film booklet
Paint Your Wagon 1969 Original Radio Spots 60, 30, 10 seconds
Paint Your Wagon 1969 10 x 8 Press Stills b/w x 38 + 14 large 14 x 11 style
Paint Your Wagon 1969 Rare Gold original UK souvenir premiere brochure
Paint Your Wagon 1969 Rare the making of Paint Your Wagon Featurette on 8mm (Not available on DVD)
PRESS BELOW TO VIEW THIS VERY RARE FEATURETTE
Note: The original featurette is actually in colour and not b/w
Paint Your Wagon 1969 UK 4 original d/sided promotion cards from Paramount in folder
Paint Your Wagon 1969 set of 3 original double sided white cards in Paramount folder
Paint Your Wagon 1969 I Talk to the Trees original sheet music with film artwork
Paint Your Wagon 1969 Rare Original UK fold out card (3 fold)
Paint Your Wagon 1969 Rare UK original ticket booking slip fully illustrated
Paint Your Wagon 1969 UK Gatefold LP x 2
Paint Your Wagon 1969 Ultra Rare Promotional original LP open-ended interviews for Radio show from Paramount, very collectable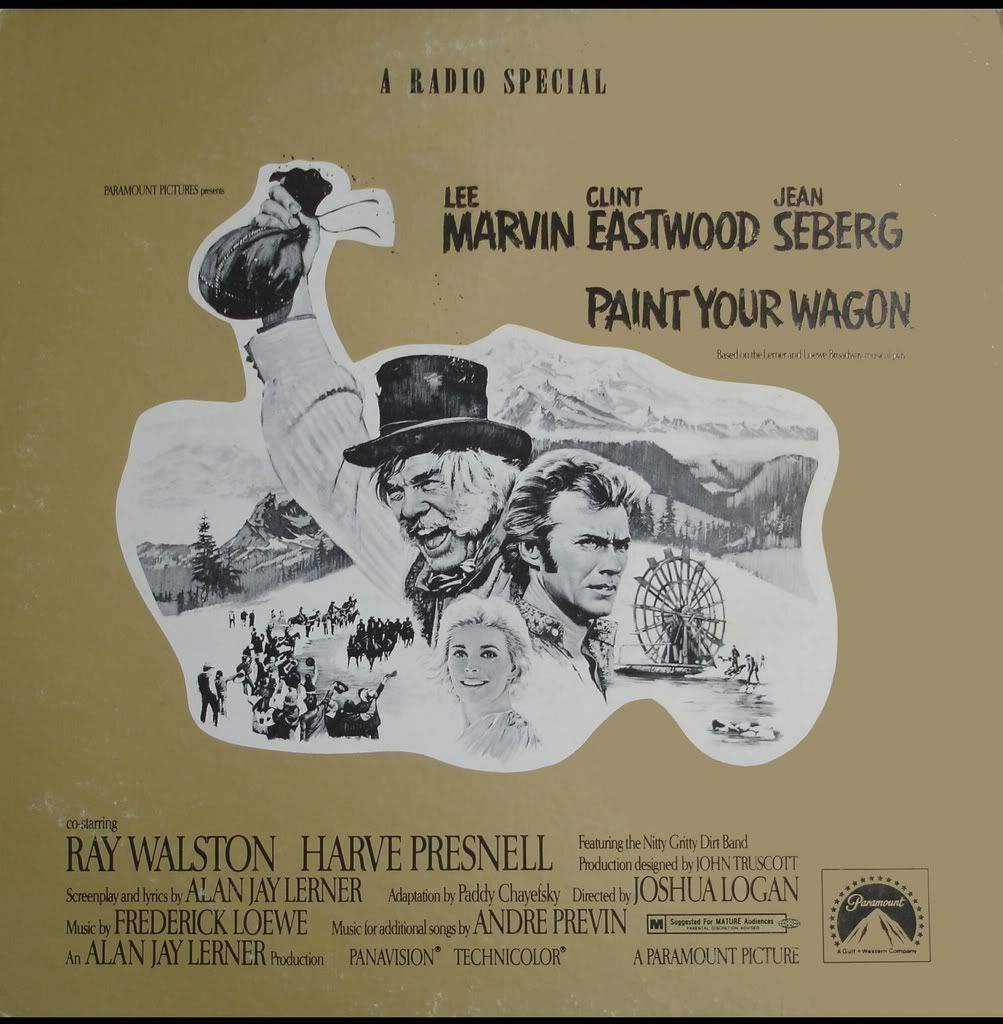 Paint Your Wagon 1969 Promotional recording CD Backup of above Vinyl LP
Paint Your Wagon 1969 Badge featuring Clint from the film approx 2"
Some of the many promotional items from around the world:
The U.S. 60 x 40 Poster and the U.S. Lobby set of 8 Size 14 x 11
Below: The U.S. Insert Poster
Below: This French 7" 45 rpm record Wanderin' Star from Paint Your Wagon came in a very nice picture sleeve
Cat No 00691369
Here's the German 7" 45 rpm Record which used the film poster art for the sleeve.
Cat No C00691108
Below: Here's really nice French LP (Front and Back)
Below: Paint Your Wagon Australian Daybill poster
Below: A set of 5 Pete Max designed posters for the film. These posters were printed on foil and can fetch quite high prices on today's market.
Below: Set of 9 Paint Your Wagon Italian fotobustas
Below: Again, thanks to Jerry for sending in these 5 wonderful Behind the scenes shots from the production
Below: A Rare publicity still featuring Lee Marvin, but do you know the other actor?
Below: An example of a South American Publicity still
Below: A Rare shot of Clint rehearsing for a scene
Below: Lee and Jean Seberg during a lunch break
Paint Your Wagon (1969)
October 16, 1969
PAINT YOUR WAGON
By Vincent Canby, New York Times
Published: October 16, 1969
In some ways, in fact, the very weaknesses of Paint Your Wagon are its virtues. There is something quite cheerful about its book, which is so casual that it stops being a story after intermission and becomes, instead, a frame for some amusing, comedy "set pieces." Its three stars—Lee Marvin, Clint Eastwood, and Jean Seberg—are not singers by the stretch of anybody's imagination, but they are appealing performers and they come on with such legitimate, graceful good humor that they disarm the sort of criticism demanded by more aggressive personalities.
Running time: 166 minutes.
Below: Clint and Lee Marvin with their ladies at the Paint Your Wagon Premiere October 15th 1969
Below: Clint from the same event